Welcome to the Hutton Rudby Dramatic Society website.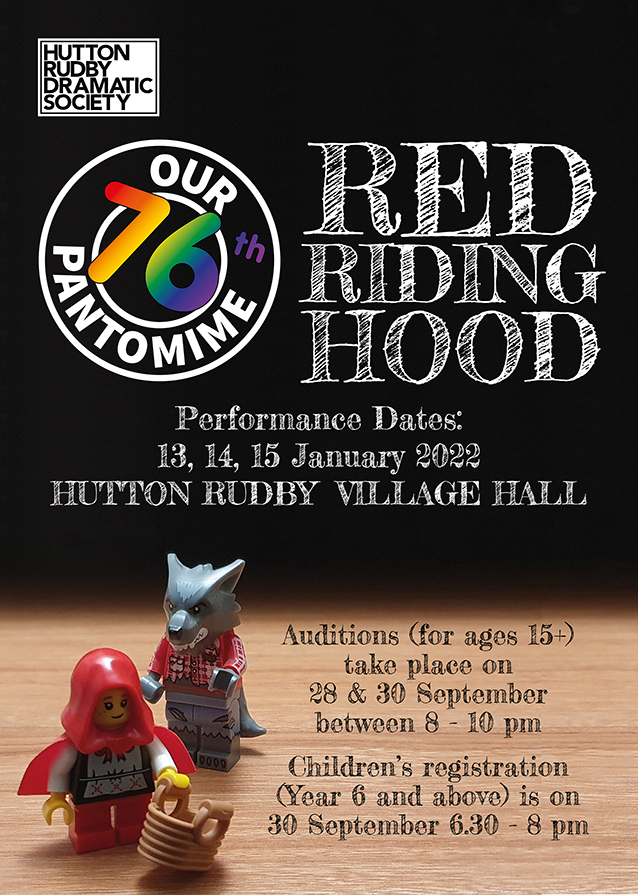 Our pantomime for January 2022 is Red Riding Hood. It marks the return to the stage for Hutton Rudby Dramatic Society following our last live production in January 2020. We would love as many people as possible to be involved in our production, both on and off stage.
All children who are in Year 6 or above are welcome to join the pantomime chorus, and we would love to see you, and your friends, for registration at 6.30 pm on Thursday 30th September. You will need to be accompanied by a parent or guardian for the registration.
This year we are also opening up cast auditions to older children. If you, or your friends, will be aged 15 years or over before 13th January 2022, and would like to audition for a principal part, we would love to see you at 8 pm on Tuesday 28th and Thursday 30th September. If you have any questions about what this will involve please don't hesitate to ask. You can contact us through our Facebook page or via Instagram. Alternatively, email us at huttonrudbydramaticsociety@gmail.com
Being part of the Society is great fun and it makes a big contribution to the village. If you would like to join us on stage, in wardrobe, backstage, or front of house – everyone is most welcome.
VISIT THE DRAMATIC SOCIETY ARCHIVE
Malcolm McPhie has built up an extensive archive of images and videos which documents the activities of the dramatic society since it's inception in 1920.
He is now posting this on a dedicated facebook page.
To visit this site please click on the banner